Review: Red Rising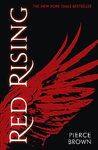 Red Rising
by
Pierce Brown
My rating:
5 of 5 stars
Red Rising
! The cover quote by
Scott Sigler
says it all, "Ender, Katness, and now Darrow."
The social stratification we see in
Ender's Game, The Hunger Games,
and
Divergent,
is taken to all new levels in Red Rising.
Pierce Brown's
delightful use of a Eugenic's obsessed culture makes Darrow's rise from a lowly Red to an iron Gold an enjoyable story that will go down in history as 'classical' and 'epic' science fiction. This is one of those books that you just CANNOT put down. We feel every betrayal, every heartache, and every triumph as Darrow faces impossible odds in a system stacked against him in every way possible. HIGHLY RECOMMENDED!
Royce Sears
www.roycesears.com
View all my reviews